Creating activities in real time
In most cases you should create activities in your scenario in the Studio beforehand. However, you also have the possibility to create new activities right from the animation interface. 
How do I create an activity just before or during the session 
1. Go to the Menu and click on
If your session is already running, open the Menu in the upper left corner of the screen and click on the icon
above the list of activities.
2. Choose the activity 
You can create one of the following activities in real time: 
Live Questions!
Buzzer
Brainstorming
Question Wall
Word Cloud
Photostory
Reveal
Choose one of them.

3 . A pop-up window will appear

4. Enter the title of the activity and program it
Give the activity a name (can be a title and/or the instructions for it)
You will then be able to either launch it straight away by clicking Play in the bottom right corner or to play it later by clicking Play later in the bottom left corner. In this case the activity will appear in your menu without being immediately broadcast to the participants.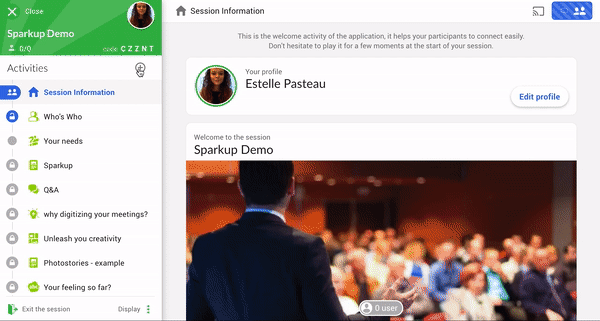 The Reveal and the Buzzer cannot be broadcast later. These 2 activities don't require any preparation so you can launch them right after creating them. 
You can find more information in the following articles: