Moderating your 

participants' 

publications 



As a facilitator, you control all the activities. You can block/unblock activities, open/close quizzes, stop a race, etc.
Moderation can be used for these 3 activities: 
The moderation mode allows you to choose the messages that you do not want to show on different screens (the Cast or the participants' devices). 
As a facilitator, you can moderate activities in 2 different ways: 
during Post-publication,
during Pre-publication.
Moderating during post-publication
If the option "Participants' messages will be approved automatically" is activated, all the messages will appear directly on the different interfaces without any moderation. 
However, you can still click on any publication and hide it. 
This option is recommended because it makes the activity more dynamic.
To hide a published message, click on the 3 little dots on the right side of the message. A pop-up window will appear offering you to Hide the message. Click on it and the proposition will be hidden on all interfaces.
In order to see hidden messages, click on the Trash icon 

. You will then be able to make the messages seen again!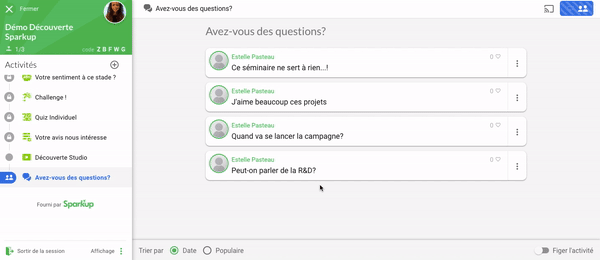 Moderating during pre-publication
When the option "Participants' messages will be approved automatically" is deactivated, all messages will appear only on the animation interface, but not on the other interfaces.
The facilitator should then decide whether to approve each message or not.
This option is useful when you are in a more sensitive context and you wish to control all the publications.
Important: If you use this option, we recommend approving the propositions quickly in order not to frustrate the participants. If you spend too much time on approving the messages, the participants may lose interest. 
Of course, after approving a publication, you can always change your mind and hide it. 

Extra information: