Using Sparkup as a visitor



There are 2 ways to log into the application :
If you have a Sparkup account, see Logging into the application as a participant
If you don't have a Sparkup account, you can log in as a visitor (anonymously)

How do I log in as a visitor?
Go to the Sparkup App (sparkup.live).
Enter the session code given to you by the facilitator. A pop-up window will appear. Click on I am a new visitor. You will then be logged in as a visitor.
Your profile will remain anonymous until you edit the profile information.
Editing the visitor profile
If you want to change your profile, click on Edit my profile on the home page, enter your name, last name and photo.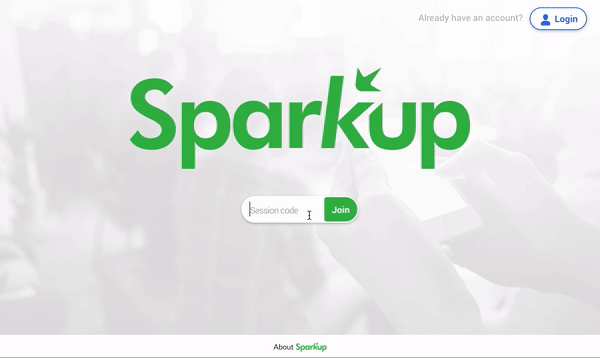 Create a Sparkup participant account
If you wish to access the post-session or to use Sparkup during future sessions, you must create an account.
Go to your profile and click on Register. Enter your e-mail address and a password, then click on Save.