How do I animate a Quiz?
Contrary to a Live Questions!, you just need to launch the quiz and the participants will then be able to complete it at their own pace.
1. Click on the activity in the menu and broadcast it

Once the activity is unblocked or broadcast, the participants can start completing the quiz.
2. Explain the activity to your participants (optional)
Just like for any other activity, it is preferable to introduce the quiz orally. Give your participants instructions, for example, tell them how much time they have to answer the questions.
3. Monitor and animate the quiz
As a facilitator, you have access to detailed statistics in real time while your participants are answering the questions. These statistics include:
Response rate for every question,
Percentage for each response,
Global average score or average score per question,
Overall or individual progress...
In order to see this data, the facilitator has access to 2 tabs:

Detailed overview of each question,
Detailed overview of each participant.
The graph on the broadcasting screen (the Cast) shows the average number of questions that the participants have answered as well as the participant who is ahead (i.e. the one who has answered the most questions so far).
You can comment on the participants' progress, encourage the ones who have fallen behind or focus on the questions that have a low rate of correct answers and discuss them in more detail if necessary.
4. Discuss the results
Why discuss the results of a quiz? By using the results of your participants, you can go over the correct answers and the most difficult questions to make sure that your participants leave the session without any doubts.
| | |
| --- | --- |
| | You can choose the option Close quiz. The quiz will then be blocked and the results frozen. |

If you want to add a bit of a challenge or just make the activity more fun, you can show the participants' rating on the broadcasting screen by clicking on this button:

Here is what you will see on the Cast: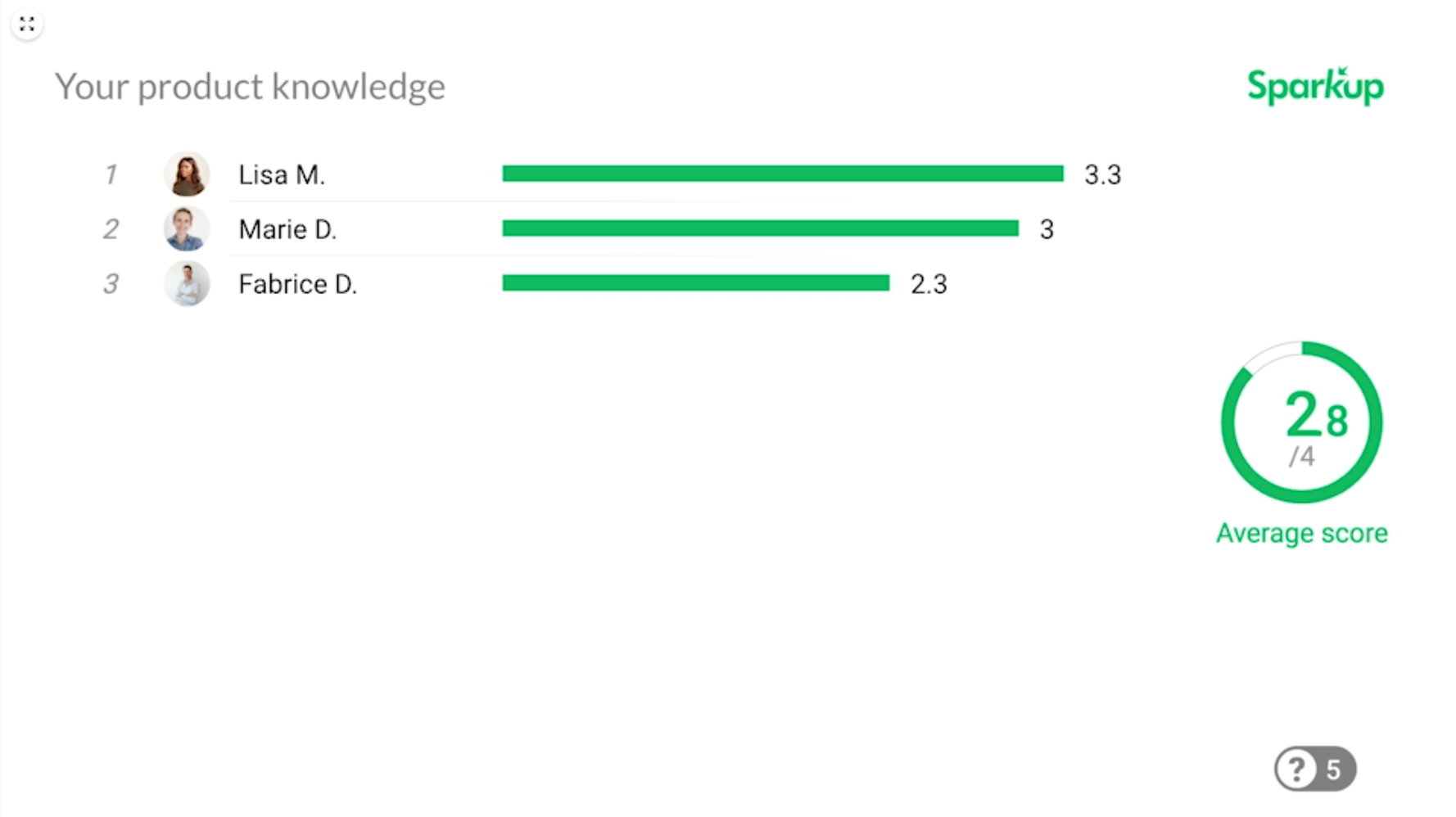 You can block/unblock the Quiz at any time and show or hide the graph and the rating.

Find out more about Creating a Quiz.
Extra information: